---
While according to Ian Birrell in this December story over at the Daily Mail, Americans may never find out the truth about China and their ties to this 'pandemic' that has led to the 'ravaging' of small businesses in America, the fact that two inquiries into the origination of Covid-19 are being completely cloaked in secrecy, and the World Health Organization is allowing China's government in Beijing to 'vet' anyone investigating it, tells us much that need to know.
(Article by Stefan Stanford republished from AllNewsPipeline.com)
With Joe Biden completely 'owned' by China, so the likelihood of truth emerging about Covid-19's origin in the months and years ahead should Biden ever make it into the White House sadly ranging from '0%' to 'not a snowballs chance in hell', President Trump's last two weeks in office are absolutely critical if Americans want to learn the truth about this 'pandemic', or anything else for that matter.
Because with what's being called 'the week that will change America' having arrived, and it looking more and more like Democrats will not only control the White House and the House of Representatives but now the US Senate, too, anyone who thinks America will ever have a better chance than now to learn 'the truth' about many things hasn't been paying attention to the secrecy and fraud Democrats invoke everywhere they go, behaving just like their 'communist overlords' in China.
So, despite the fact that, as Ian Burrell reports in his story, highly explosive emails from a group of top-level scientists and government doctors have revealed Covid-19 may have originated from 'human activities' in China (or US 'deep state labs'?) rather than naturally from animals, Burrell also reports that another email asked if this virus may have been deliberately engineered, with such a possibility hinting Covid-19 may have been a 'stealth attempt' to launch a biological attack upon America, an act of war.
And while China would never ever admit to such a stunt, a 'stunt' that also helped Democrats in the 2020 election, allowing them to 'weaponize' fraudulent and mail-in-ballots against President Trump and the American people, the chance of Americans ever learning the truth about this virus, the lockdowns that followed, the 2020 election and all of the deep state crimes upon the American people will be disappearing completely should President Trump leave office in just weeks. From this Daily Mail story before we continue.:
The documents also show that a key letter sent early in the pandemic from America's top scientists to the White House had a line deleted that suggested the virus could have been 'an unintentional release from a laboratory'. 
These revelations come as evidence of China's cover-up grows, alongside fears the World Health Organization, widely criticized for its failure to challenge Beijing at the start of the pandemic, is letting the regime dictate its inquiry into the origins. 
The WHO has allowed China to vet scientists taking part in the probe, while also appointing to its ten-strong team the British charity chief Peter Daszak whose funding for research on bat viruses in a high-security Wuhan laboratory was stopped on safety grounds.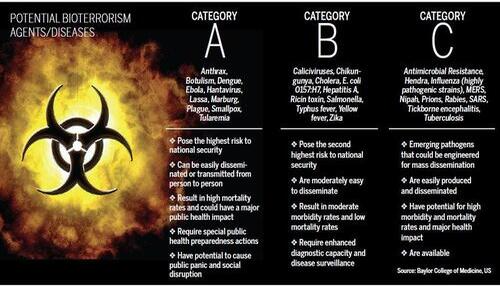 So with China doing everything in its power to cover up what some are arguing 
is an act of war upon the United States of America
, while Biden prepares to do China's bidding should he take over America's Commander-in-Chief position, the fact that the mainstream media is ramping up the fear level surrounding Covid-19 by continuing to scream about the 
SUPER-Covid 19 'mutation' spreading from coast to coast 
here in the United States is another sign they're preparing to kick things up another level in this takedown of freedom and America.
And while we're not in the position to officially declare that Covid-19 is a bioweapon, Iran, Russia and surprisingly China have all pushed the 'Covid-19 bioweapon conspiracy theory' while the Inter Press Agency News Service had published this story titled "Could the Coronavirus Be a Biological Weapon in the Not-Too-Distant Future?"
With recent reports that Russia is developing a 'super-deadly' ebola bioweapon more proof that country's will create such a weapon to unleash upon the world if it helps them to accomplish their geo-political objectives, as Ronald Reagan's son Michael Reagan had warned in this story over at the Norfolk Daily News, Covid-19 is nothing less than an act of war upon America.
Read more at: AllNewsPipeline.com and CommunistChina.news.
Submit a correction >>