---
Big tech CEOs took a beating from both sides on Wednesday, with Democrats on the House Judiciary antitrust subcommittee hammering the heads of Facebook, Amazon, Google and Apple over anti-competitive conduct, and Republicans on the committee focusing on bias against conservatives.
(Article by Tyler Durden republished from ZeroHedge.com)
Representative David Cicilline, the chairman of the antitrust subcommittee, grilled Sundar Pichai, Google's chief executive, about how Google steers traffic to its own search pages and products. Representative Jerrold Nadler of New York asked Mark Zuckerberg, Facebook's top executive, about emails he wrote describing Instagram as a potentially disruptive competitor before the company acquired the firm. And Representative Hank Johnson of Georgia pushed Tim Cook of Apple on whether his company exerts unfair dominance over app developers in its app store. –NYT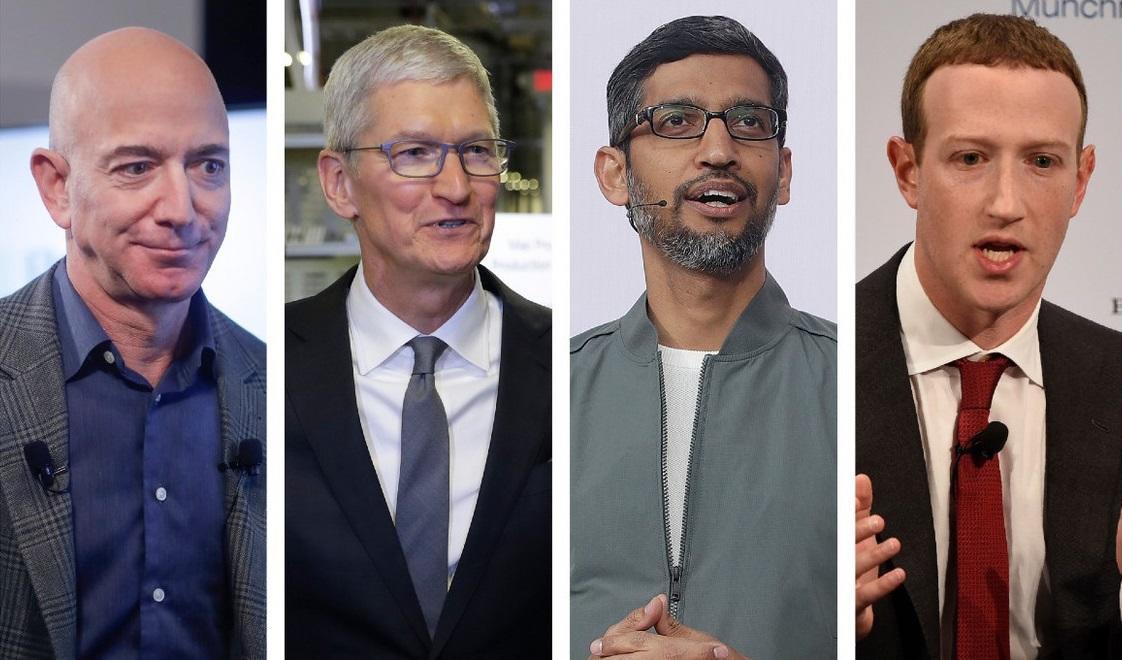 Wrapping up the five-plus hour session, Chairman Rep. David Cicilline (D-RI) said during his closing statements that all four companies are monopolies, saying "These companies, as they exist today, all have monopoly power," adding "Some need to be broken up" and "heavily regulated."
"Their control of the marketplace allows them to do whatever it takes to crush independent businesses and expand their own power," Cicilline added.
"They're engaged in behavior that's anticompetitive, which favors their own products and services, which monetizes and weaponizes data, which compromises the privacy of their users and which creates a competitive disadvantage for companies attempting to enter the marketplace."
Republicans on the committee – particularly Rep. Jim Jordan (R-OH), grilled the CEOs over political bias.
Jordan accused the companies of being "out to get conservatives."
"I'll just cut to the chase," said Jordan during opening remarks. "Big Tech is out to get conservatives. That's not a suspicion, that's not a hunch — that's a fact."
"We're 97 days before an election, and the power … these companies have to impact what happens during an election, what American citizens get to see before their voting, is pretty darn important," said Jordan.
Later in the hearing, Jordan dug into Pichai, repeatedly demanding assurances that Google would not tip the scales for the Democrats in November.

"Can you assure Americans today you won't tailor your features to help Joe Biden in the upcoming election?" asked Jordan, who mentioned reports of a "silent donation" the company made to the Clinton campaign in the 2016 election cycle.

Jordan had to repeat the question several times during his allotted five minutes before Pichai finally uttered, "You have my commitment."

Jordan's grievances notwithstanding, lawmakers on both sides of the aisle were united in holding the tech titans' feet to the fire, amid bipartisan concerns that they've developed a stranglehold on the internet and American life. –NY Post
The CEOs defended their businesses, with Bezos arguing that " Every day, Amazon competes against large, established players like Target, Costco, Kroger and, of course, Walmart — a company more than twice Amazon's size."
Mark Zuckerberg painted Facebook as an "American success story" and an underdog compared to his competitors.
"[The] most popular messaging service in the US is [Apple's] iMessage," he said. "The most popular app for video is [Google's] YouTube. The fastest-growing ads platform is Amazon, the largest ads platform is Google. And for every dollar spent on advertising in the US, less than 10 cents is spent with us," he said.
Rep. Pramila Jayapal rejected Zuck's framing, firing back "When the dominant platform threatens its potential rivals, that should not be a normal business practice."
"Facebook is a case study, in my opinion, in monopoly power, because your company harvests and monetizes our data, and then your company uses that data to spy on competitors and to copy, acquire and kill rivals. Facebook's very model makes it impossible for new companies to flourish separately, and that harms our democracy, it harms mom-and-pop businesses and it harms consumers."
Tim Cook defended Apple's App Store amid accusations that the company has unfairly blocked apps which rival its in-house products, along with the 30% cut the company takes from in-store purchases.
"I'm here today because scrutiny is reasonable and appropriate," he said, adding "If Apple is a gatekeeper, what we've done is open the gate wider."
But, as the Post explains, "It was the frequently evasive Pichai, however — defending Google's far-reaching online ad business — who seemed to catch most of the flak."
Cicilline charged that Google has "evolved from a turnstile to the rest of the Web, to a walled garden that increasingly keeps users within its sites.

"It used its surveillance over Web traffic to identify competitive threats and crush them," continued Cicilline. "It has dampened innovation and business growth … virtually ensuring that any business that wants to be found on the Web paid Google a tax." –NY Post
"Our founders would not bow before a king," said Cicilline. "Nor should we bow before the emperors of the online economy."
Update (1615ET):
In an interesting exchange, Rep. Jamie Raskin (D-MD) read an email which Amazon's Jeff Bezos sent to his staff saying "We're buying market position, not technology."
*  *  *
Update (1445ET):
While the tech titans mostly stuck to their prepared remarks at the beginning of today's testimony, Facebook's Mark Zuckerberg veered off script – pointing out that Google is the largest online advertising platform in the world, while Amazon is growing the fastest.
"In many areas, we are behind our competitors," he said. "The most popular messaging service in the U.S. is iMessage. The fastest growing app is TikTok. The most popular app for video is YouTube. The fastest growing ads platform is Amazon. The largest ads platform is Google. And for every dollar spent on advertising in the U.S., less than ten cents is spent with us."
Translation: Facebook couldn't possibly commit antitrust violations with these advertising behemoths at the head of the pack.
*  *  *
Update (1155ET): The Big-Tech hearing has been delayed until 1230-1300ET as the Judiciary Committee attempted to complete another hearing on immigration.
*  *  *
The CEOs of Amazon, Google, Apple and Facebook will testify before House lawmakers over allegations of anti-competitive practices. For members of the House Judiciary antitrust subcommittee, it will be their sixth hearing in their investigation into Silicon Valley antitrust accusations.
Watch Live (the 'virtual' hearing is due to start at 1200ET):
The four CEOs have now released their prepared remarks.
Amazon CEO Jeff Bezos:
Apple CEO Tim Cook:
Google CEO Sundar Pichai:
Facebook CEO Mark Zuckerberg:
*  *  *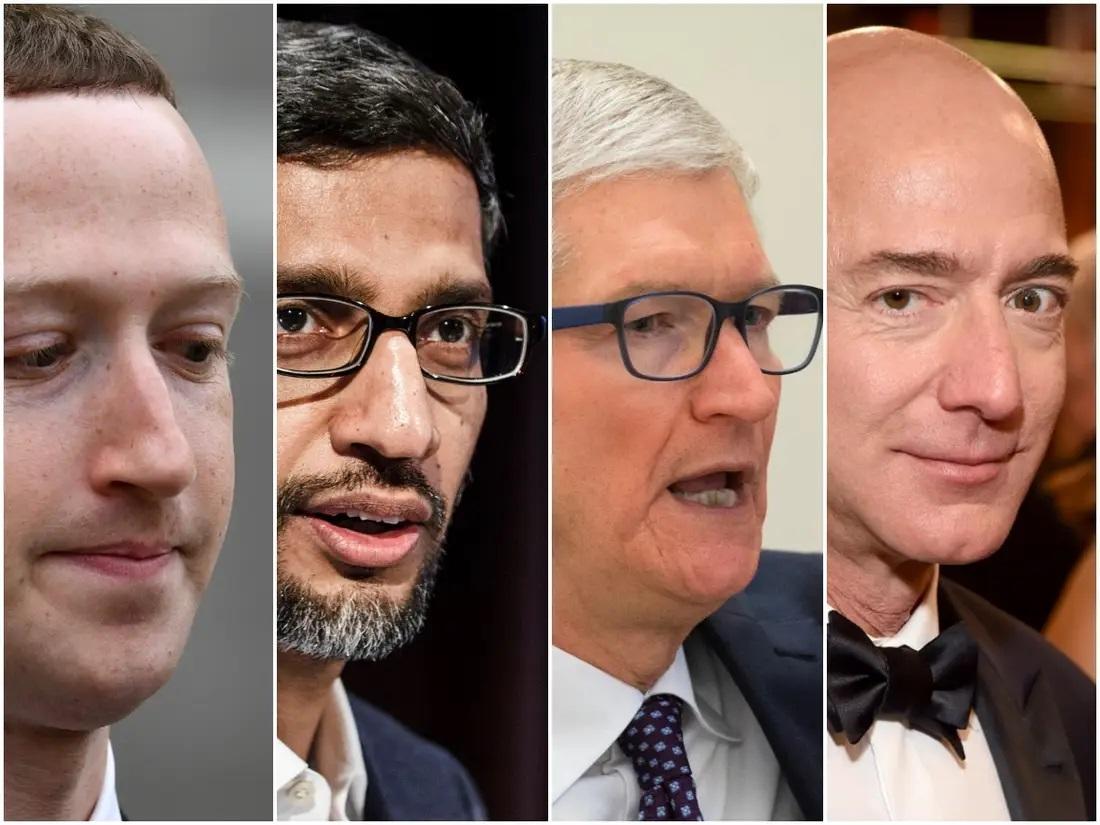 As Politico notes, "The session also arrives as scrutiny of the behemoths is surging across the globe, including an expected Justice Department antitrust case against Google and the recent launch of two European probes of potential anticompetitive behavior by Apple."
It will also mark the first time Jeff Bezos, the world's richest person, has offered testimony before Congress – albeit via videoconference, while House Judiciary lawmakers will attend both virtually and in-person in a hybrid format, according to the report.
That said, today's 'showdown' could go one of two ways; fireworks, or snoozefest. If House Democrats jump off script from antitrust issues and press the CEOs over online hate speech, or if GOP members drill them on anti-conservative bias, things could get interesting.
Even the format of the questioning – four elite CEOs, all appearing by videoconference because of the coronavirus pandemic – could make it harder for the members to land a glove on the companies' varied issues, ranging from Google's and Facebook's command of digital ad revenue to Apple's control of its App Store and questions about whether Amazon misled Congress. –Politico
"The discussion will go well beyond antitrust," said Carl Szabo, VP and General Counsel of NetChoice, a tech trade group which counts Google, Amazon and Facebook as members. "It will go into issues of election interference, or conservative bias, or any of the other issues de jour on which we like to saddle tech."
As we detailed previously, here's what to expect assuming things go according to plan:
Lawmakers will likely question Bezos about whether an Amazon lawyer misled the Judiciary Committee last summer by claiming the company doesn't use data collected from third-party vendors to launch competing products of its own.
In fact, according to the Wall Street Journal, Amazon employees did just that – which prompted Judiciary leaders to question whether a criminal referral was appropriate for perjury charges. The company disputed WSJ's report, and said it did not 'intentionally mislead' the Committee – while also promising to conduct an internal investigation.
Facebook's Mark Zuckerberg will likely face questions over acquisitions of former rivals WhatsApp and Instagram, while Sen. Elizabeth Warren (D-MA) and others have called for regulators to break up the social media giant.
Other items of inquiry will include how Facebook handles its trove of data collected from more than 2 billion users, including whether it is for anticompetitive purposes.
"There's a real fear that no other competitor could ever successfully launch a social media platform because it could never match Facebook's troves of data, which, given their record, it's a serious threat to users," Rep. Joe Neguse (D-CO) told Politico.
Google's Sundar Pichai will have to answer for whether the company amplifies its own search services to the detriment of competitors and consumers seeking maps, videos or other services.
Separately, questions will be asked over whether their domination of online advertising has harmed smaller businesses as well as news outlets.
The committee has also accused the company of being less than forthright in its past testimony, including on questions such as what percentage of searches on the company's engine lead to website referrals not on Google.

Google has separately been a frequent target of Republican allegations of anti-conservative bias on its video sharing platform YouTube, a topic that is expected to come up again at Monday's hearing. Google and other major tech platforms deny those charges. Democrats, meanwhile, have taken issue with the company's handling of hate speech and misinformation on YouTube. –Politico
Lastly, Apple CEO Tim Cook will face questions over how the company has handled its app store.
"Because of the market power that Apple has, it is charging exorbitant rents — highway robbery, basically — bullying people to pay 30 percent or denying access to their market," Rep. David Cicilline (D-RI) told The Verge in June. "It's crushing small developers who simply can't survive with those kinds of payments. If there were real competition in this marketplace, this wouldn't happen."
Read more at: ZeroHedge.com
See this meme:
Submit a correction >>